5 in 1 Builder Nail Gel Clear/Nude/Cover Pink/Light Pink/Deep Pink
Regular price
$9.99
$0.00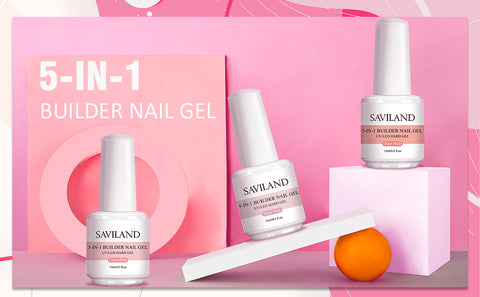 Product Specifications:
Brand: Saviland
Capacity: 15ml/0.5oz
Colors: Clear/Nude/Cover Pink/Light Pink/Deep Nude
Package Includes: 1pcs 5 In 1 Clear Builder Nail Gels
Used For: Nail extension, Nail repair, Nail reinforcement, Sticking Diamonds, 3D Nail Art Design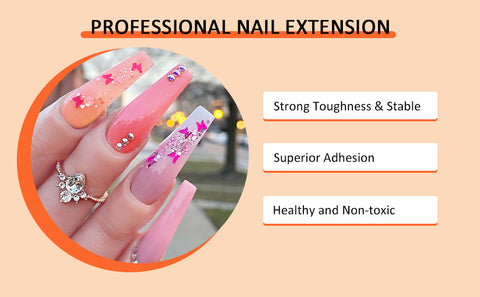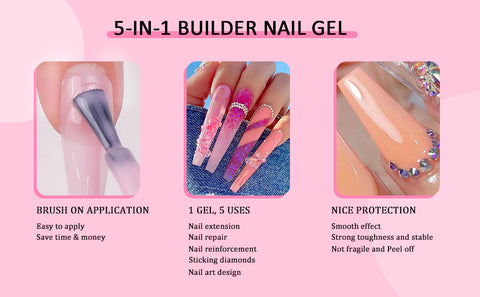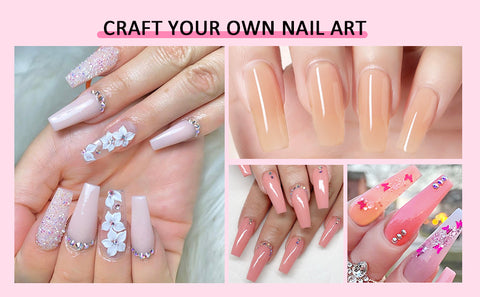 Features:
The builder nail gel in a bottle is easy to apply and quick drying with nail lamp.
The 5 in 1 clear builder nail gels can be used to repair natural nails, strengthen nails, nail extensions, stick diamonds, French manicure, 3D nail design.
The nail extension gel is made of materials, low-odor and safe.
The nail gel is long-lasting, it can keep shine for more than 28days if used correctly.
The nail extension gel is strong, it won't chip, break, or peel off easily.
Perfect for nail professionals and nail beginners to create nail art design.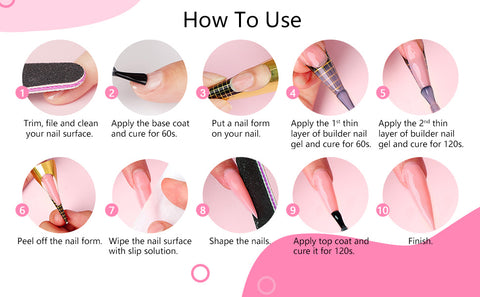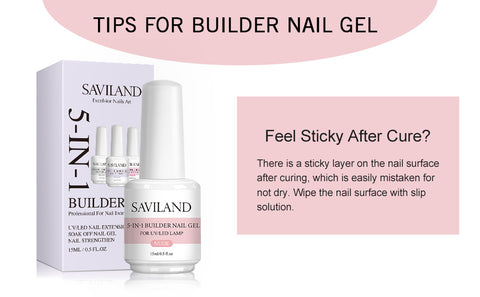 How To Use?
STEP 1: Trim, file and clean your nail surface.
STEP 2: Apply the base coat and cure for 60s.
STEP 3: Put a nail form on your nail.
STEP 4: Apply the 1st thin layer of builder nail gels and cure for 30-60s.
STEP 5: Apply the 2nd thin layer of the gel and cure for 30-60s.
STEP 6: Peel off the nail form.
STEP 7: Wipe the nail surface with slip solution.
STEP 8: Shape the nails.
STEP 9: Apply top coat and cure it for 120s.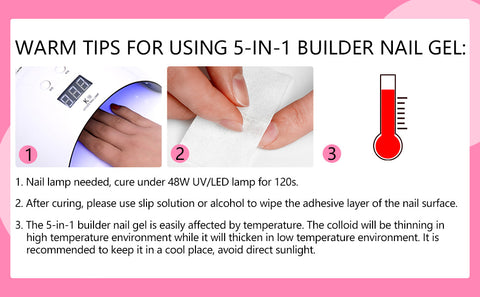 Warm Tips:
For external use only. Keep out of the reach of children.
Keep the gel polish kit in a cool place, avoid direct sunlight.
The base and top coat are required.
Before applying base coat, please file and clean the nail surface, make sure that your nails are complete dry, clean and oil-free.
Apply in layers. No need to apply too thickly each layer. It is necessary to keep each layer thin and smooth.
Need UV/LED nails lamp to cure for 30-60s.
There is a sticky layer on the nail surface after curing, which is easily mistaken for not dry. Wipe it with slip solution.
Q&A:
Q: Why don't dry?
A: Please use a nail lamp to cure the builder nail gels for 30-60s. After curing, there will be a sticky layer on the nail surface, which is easily mistaken for not dry. You can wipe the surface of the nail with slip solution, which can be easily removed.
Q: Can I use the builder nail gels to stick diamond?
A: Yes, it is one of the uses. It has strong adhesion and can help you complete the exquisite nail design.
Q: How long can the builder nail gel stay on my nail?
A: If you operate it correctly, usually it can last for 3 weeks or more. Make sure to clean and polish your nails, apply the base coat before use, and apply the top coat after use.
Q: How long does the builder nail gels need to cure under nail lamp?
A: The drying time depends on the thickness of the nail builder nail gel. You can cure under UV lamp for 120 seconds or under LED lamp for 60 seconds.
---
More from this collection