1pcs Bronze Gold Acrylic Nail Brush Size 8/10/12
Regular price
$13.99
$0.00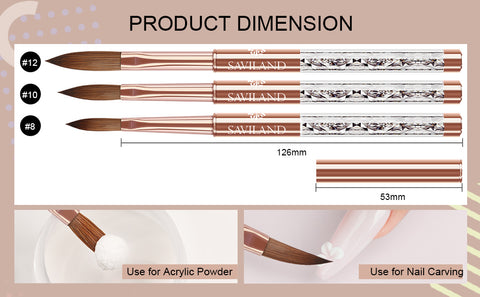 Product Specifications:
Brand: saviland
Capacity: 1pcs
Colors: bronze gold
Package Includes: 1pcs acrylic nail brush size 8/10/12
Used For: nail extension/nail carving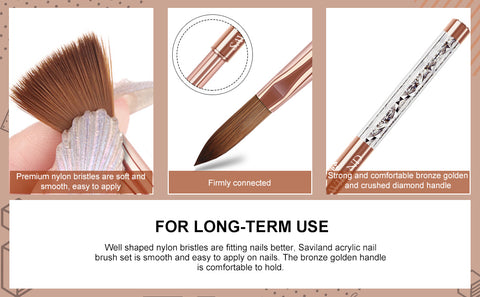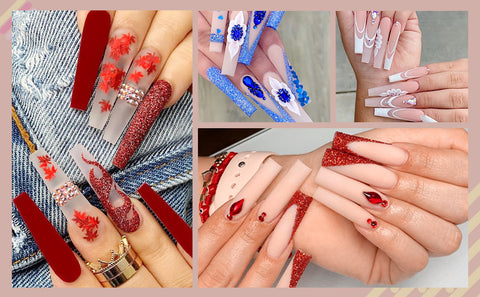 Features:
Acrylic nail brush vivid color, unique style and fashionable.
Decorate your brush with attractive shiny decoration.
The special nail brush handle, eye-catching and adorable.
The nail's art brush is lightweight and comfortable, easy holding to draw, smooth application, convenient for you to do nail extension and nail carving.
These acrylic nail brushes are made with kolinskyhair, which possess non-deformation, non-corroding characteristics.
Suitable for nail art beginners, professional nail artist.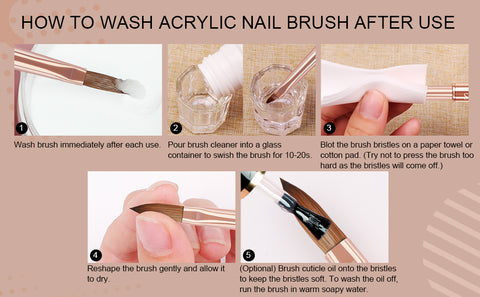 How To Use?
1. Wash brush immediately after each use.
Pour Nail Brush Liquid Solution into a glass container to swish the brush for 30s.
Blot the brush bristles on a paper towel or cotton pad. (Try not to press the brush too hard, as the bristles will come off.)
Reshape the brush gently and allow it to dry.
(Optional) Brush cuticle oil onto the bristles to keep the bristles soft. To wash the oil off, run the brush in warm soapy water.
Warm Tips:
APPLY: Always rinse a new brush with brush liquid solution before first using.
CLEAN: Always wash brush after each use. "DO NOT USE ACETONE", because Acetone will remove the shine from the brush bristle and make the acrylic tacky or build-up residue. Do not rub back and forth vigorously when washing.
STORAGE: Always keep aired in the upright position and avoid direct sunlight.
SHEDDING: Shedding hairs from a new brush is normal. If more, please let us know.
Q&A:
Q:How to keep these acrylic nail brush for longer use?
A:Make sure you clean and dry it each use. Then, cap it with the clear cap on the brush head and put it back in the tube.
Q:Is it comfortable to hold it?
A:Yes. Its handle is not so big, easy to handle and operate, smooth application without brush lines.
Q:Can this nail brush set be used for builder gels?
A:No, they are two kind of different nail brush.
---
More from this collection